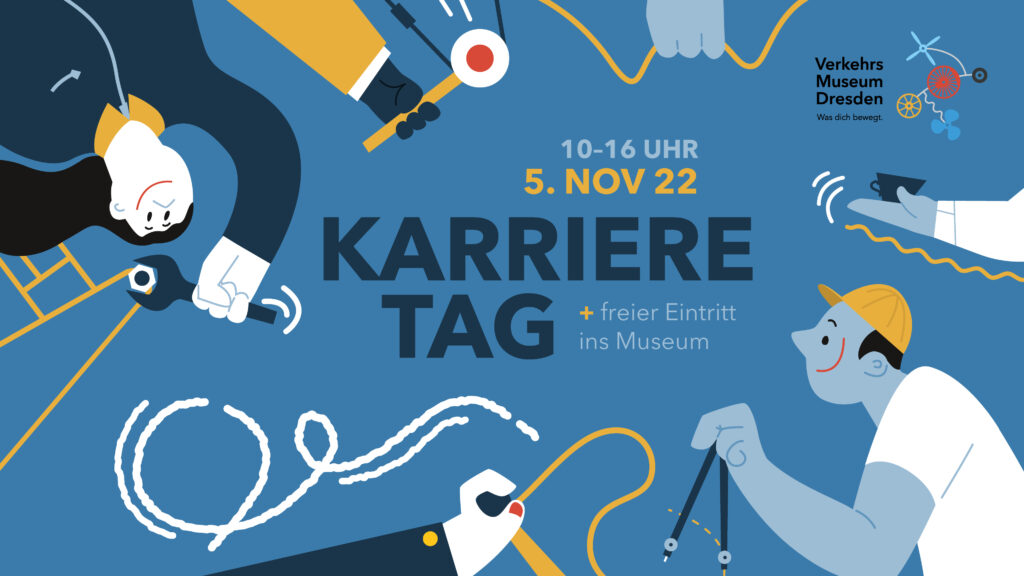 The Dresden Museum of Transport invites for Saturday, 05.11.2022, to the "Career Day" in the Johanneum at the Dresden Neumarkt.
From 10 a.m. to 4 p.m., companies from the (transport) technical sector will present their internship, training and study opportunities. Admission to the Transport Museum and the training fair is free for all visitors on this day!
We as a faculty are also represented there with a booth, but also other companies that might be interesting for you as students.
The following companies will provide an insight into the diversity of their training and job opportunities:
Autohaus Dresden Reick GmbH & Co. KG
Deutsche Bahn AG
Dowaldwerke GmbH
Elbe Flugzeugwerke GmbH
EPV – GIV Europrojekt Verkehr – Gesellschaft für Ingenieurleistungen im Verkehrswesen mbH
Fakultät Verkehrswissenschaften "Friedrich List" an der TU Dresden
FEP Fahrzeugelektrik Pirna
Handwerkskammer Dresden
Industrie- und Handelskammer Dresden
Leibniz-Institut für Festkörper- und Werkstoffforschung Dresden e.V.
Mitteldeutsche Flughafen AG
PMG Precision Mechanics Group GmbH
Schenker Deutschland AG
SUSA S. Sauer GmbH & Co. KG
Contact: